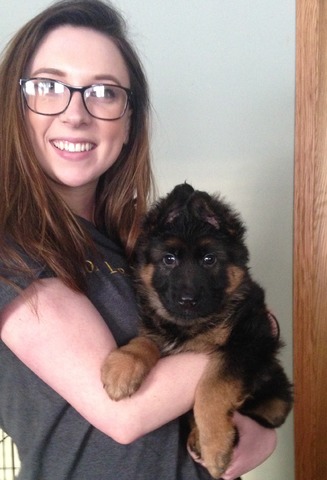 New Puppy Information

Hello New Puppy Family!

There are a few things we thought you may be wondering about while you are preparing to bring your puppy home. We put together as much new puppy information as

we could to help you with any questions you may be thinking of or we know you will most likely have questions about in the weeks to come. Of course you may have

more questions about topics we did not cover here, so please feel free to contact us at anytime and we'll be happy to help you out!

Congratulations on your new puppy!

Clayton Warichak Lauren Piculell

Von der Stadtrand German Shepherds Von der Stadtrand German Shepherds

claytonwarichak@yahoo.com lp.vonderstadtrand@gmail.com

AKC paperwork

Following German tradition, our litters are named with letters of the alphabet. This is our 4th "G" litter. Please pick a "G" name for the registration name of your puppy.

For example, the father is from the "U" litter, his paper name is Uwe. This is just for their AKC registration. You are welcome to choose a different call name for your

puppy.

All puppies will come with AKC paperwork that we will partially fill out for you. You can either finishing filling out the paper form and mail it to the AKC or it can be

completed online. We highly recommend completing the application online, as it is much quicker and easier.

When you pick up your puppy at 8 weeks old (Friday, February 23rd), if you pay your remaining balance in cash you will get your AKC paperwork that day. However,

if you choose to pay with check we will mail you your AKC paperwork once your check has cleared.

Health Guarantee

At the time of pick up, you will also get a signed Health Guarantee. Please take the time to read this because it does contain important information. We will also send

you home with a shot record that you can then take to your vet if you choose to not complete their puppy shots with us.

Vet

If you haven't already picked out a vet, now is a good time! Don't wait until the last minute.

We highly recommend Dr. Wright at Wright's Brown Deer Animal Hospital in Milwaukee. Their phone number is 414-355-2603. We have been working with him for

over 10 years now and he sees the majority of our dogs in the area.

Health Records

Puppies will receive their first shot at 6 weeks old. They have also been given dewormer as a precaution. They will need 3 more shots for a total of 4. The remaining

three will be given at 8, 10, and 12 weeks of age. After puppy shots, the next shot is the 1 year rabies shot which they should get between 4-6 months of age, however

we strongly recommend holding off on this shot until closer to 6 months old because it is a little tougher of a shot for young puppies. The initial set of puppy shots are

included with your puppy but if you'd like you can take your shot record to your vet and have the remainder of their shots done with them.

Ear Tattoo

Each of our puppies will receive a unique tattoo in their right ear. They will receive this before going home. The G litter Tattoos will read S4G0__ (whatever number

they are in the litter). S stands for the S in Von der Stadtrand, 4 because it is our 4th time around the alphabet, G because it is the G litter and then each puppy will be

given a ranking in the litter from 01 to however many puppies are in that litter. Their tattoo will be written down on the paperwork that you will take home with your

puppy.

Ears

Your puppy's ears will stand up on their own. Some may come home with their ears up while others may not, but either way they will both stand up in due time.

They tend to go through different stages where one day they're up the next day one may be down or if you're lucky they may even go in the classic German Shepherd

Puppy teepee ears position! Enjoy and take lots of pictures, it's pretty cute! Most importantly just know this is all normal. When your puppy begins teething this is

another time their ears may get a little wonky. Once they have all of their adult teeth their ears will stand up correctly from then on.

Puppy Food

As stipulated in our Health Guarantee, we require that all of our puppies eat Holistic Select Large and Giant Breed Puppy Food until they are 12 months old. At that

point you are welcome to choose whatever adult food you feel best suits your dog and then properly transition them to it.

Holistic Select can be purchased at quite a few local pet food stores, as well as online stores like Amazon and Chewy.

**Helpful tip - We recommend picking up some whole milk cottage cheese and mixing a spoonful of that in with their kibble at each meal. A lot of puppies enjoy it and

it provides and extra incentive to eat their food which helps them eat well for you during the transition from here to home. It can also provide an extra boost of calcium

while their ears begin to stand up. The cottage cheese can then be discontinued once they have all of their adult teeth.

Until your puppy is 12 weeks old they will need to be fed 3 meals a day. After 12 weeks they can then be fed twice a day.

Crate Training

We recommend that you purchase a good quality crate for your puppy. Most larger dog crates will come with a divider in it so that you can section off the crate. While

your puppy is small you will want to divide the crate into a smaller area, this way puppy will feel secure inside and it will be a safe den like space for him/her. As your

puppy grows, increase the area in their crate. The puppies have had experience sleeping in a crate since they were about three and a half weeks old so they understand

the concept of this is where you sleep and not potty, however they were able to leave to go potty in their designated potty areas when they needed so it may take them a

moment to adjust. **Helpful tip - find an old shirt you no longer need and wear it for the whole day when you bring your puppy home, then place it in their crate with

them. Having something with your smell on it will help them feel more comfortable.

Saturday Dog Training

Socialization and training are super important for your new puppy. Although we do recommend holding off on taking your puppy to well traveled public areas until they

have received their puppy shots, club training is a safer place to bring your puppy for training and socialization until then. A lot of times our families also coordinate

their puppy shots with Saturday Dog Training. We do hold a puppy class at the beginning of training specifically tailored for the younger pups. Our Club Training is

available to you for as long as you would like to attend. Please visit our Von der Stadtrand Schutzund Club Facebook page and ask to join the group. This is where we

post all the information you will need to attend training and also information on upcoming events including Confirmation Shows and Schutzhund Trials.